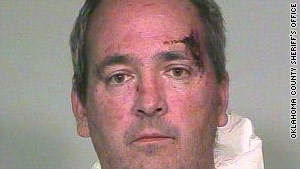 Police say officers disarmed Dr. Stephen Wolf, 51, when they arrived at his home in Nichols Hill, Oklahoma.
Oklahoma doctor held in death of son, 9 - CNN.com
.
A doctor in suburban Oklahoma City, Oklahoma, was arrested Monday and accused in the early morning death of his 9-year-old son, police said.
Dr. Stephen Wolf, 51, faces first-degree murder charges, said Nichols Hills, Oklahoma, Police Chief Richard Mask.
Third-grader Tommy Wolf was dead when authorities arrived at the family's home about 4 a.m. CT in response to several 911 calls, Mask said.
"It was obvious there had been some type of altercation" when police arrived, Mask said. Arriving officers disarmed Wolf, he said, but did not elaborate except to say a knife was found at the home.
Although the investigation is still under way, authorities believe the altercation may have begun in the boy's room "and proceeded from there" to other rooms, Mask said.
Mary Wolf, Stephen Wolf's wife and the boy's mother, suffered defensive puncture wounds to her hands and a wound to her mouth, and was being treated at a hospital, Mask said. Authorities believe she attempted to "intercede and protect her child," he said. Her wounds were not considered life-threatening.