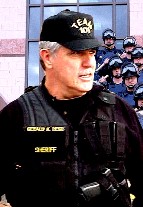 Hege confirms he'll run for sheriff in 2010 | The Dispatch | Davidson County's News Source | Lexington, NC
.
Former Davidson County Sheriff Gerald Hege announced this week he intends to run for the office again in 2010.
Hege said Friday he has known he would seek office again for quite some time but kept the decision private.
"Probably since the day I put the ankle bracelet on," said Hege, responding to when he knew he was planning to run again. He was required to wear the monitoring device after pleading guilty to two felony obstruction of justice charges in 2004 and receiving three years of intensive probation.
"I think everyone in the county knows I loved the job," he said. "I worked it 18 hours a day, seven days a week. It was something that I loved to do. I've seen things that I started and created that are missing now. The people of the county never got a chance to vote me out, and I just don't think I could go through my life without knowing for sure. I just want the people to let me know if they want me."